Saint Paul School organizes a Fund Raising Walkathon in Macau
The Annual Bazaar is one of the major fundraising event hold in the School Campus each year. It is when Saint Paul's School family comes together to support the Spedify Project for Yunnan "Providing Help, Creating Hope". This year due to the new construction taking place in the school campus, it was not appropriate to have the Bazaar within the school walls, however, this did not prevent this big family to support our project and show our concern for less privileged children in Yunnan.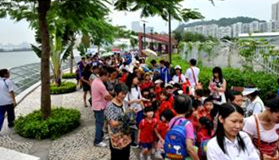 In a form of walkathon 2,700 students 194 school staff and about 300 parents spent an leisure two hours' walking around the reservoir (the Kindergarten 1, 230 students did the walk in the school campus). The opening of the walkathon began at 9:00 a.m. in the school campus with the presence of Rev. Bishop of Macau Diocese Jose Lai, Fr. Fernando Munoz, O.P. as representative of the Dominican Order, legislative councillor Ms. Chan Mei Yi Melinda, Ms. Tang Lai Iong, Supervisor of Sing Meng Association, Principals and representatives from the Diocesan Schools.
It was an enjoyable and exciting morning and all the walkers were delighted by the pleasant breeze, the fun we shared as we walked, the unity of this big family while doing the human wave or chanting the walkathon slogans, and the understanding that each small step we gave was a big jump of hope for the children of Yunnan . It was also especially meaningful and touching to see as around 17 grandmothers also joined the walk – meaning three generations walking together.
On behalf of the children of Yunnan a special thank you to all of those who have so graciously contributed with your donations, your time and effort to the fundraising. The MOP 308,691.30 would have not been raised without each and everyone of you!
The Good Lord sees all and will bless those who gave so unselfishly of themselves. And in our hearts, appreciate all who helped to make the day such a wonderful success!

Saint PaulSchool
October 2010