Helena Kok's diary - Hongpotou
4 November, 2009
My First Day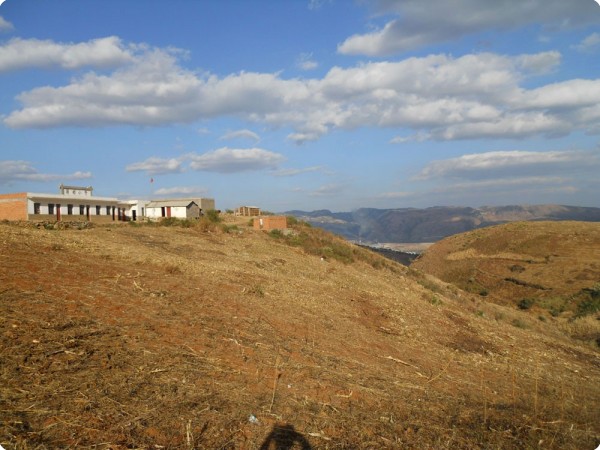 Last night was my first night in Hongpotou Dao Ming School. I slept in a bed without a mattress. Luckily, a girl who was introduced to me before I came to here thoughtfully gave me an electric blanket for the reduced temperature in the night, that I am using it as a mattress. Though it is still not as soft as a real mattress, my bones would have been much worse without it. I was also lucky to feel extremely tired after being 10 hours inside the car to arrive here since I felt asleep as soon as I laid down on the bed. I woke up many times throughout the night. Each time I woke up, it took me some minutes to figure out where I was – similar to what I felt when I first arrived Portugal years ago for my university studies.
On the schedule that Mr. Ma, Miss Lo and Mr. Yang, the other 3 teachers of Hongpotou Dao Ming School re-arranged for me, I woke up at 7 o´clock this morning, getting ready for my first lesson. I will be teaching Class 2 and Class 4 students English, Sports, Music and Drawing. Here the classes start at 8 o´clock in the morning and end at half past 4 in the afternoon everyday. Today the first 2 lessons were both English, for Class 2 and Class 4.
With all my love, I entered the 2 classrooms where I introduced myself. They looked at me with their curious eyes, but always well behaved and respectfully.
In the first English lesson of Class 2, I taught them 3 English words that they all learned diligently. I felt so happy that I distributed those lovely pencils that Lidia, my colleague, asked me to bring here to the children. However, she only gave me 50 pencils, not enough for 55 students (Class 2 and Class 4). Now that I have already distributed 31 to Class 2 students, what do I do with the rest of 24 Class 4 students?
---
5 November, 2009
Here it came the music lesson of Class 2 in the afternoon. My plan for the first music lesson of Class 2 was to teach a simply song through which I would examine their music sensibility. Children often have an intrinsic sensibility for music, but it should be gradually cultivated to an upper level. I always consider that childhood is the best stage to get acquainted with beats and rhythms, therefore, I will let them listen to music and lead them feel the beats and rhythms therein through singing and clapping hands. By implementing this plan, the didactic VCDs I bought in Zhuhai, which only cost me 9.88 yuan turned out so useful. I put my Macbook on the desk and started playing the music clip of the song ""Two Tigers"" (Liang Zhi Lao Hu). However, I realized that they were already familiar with this song. I started to panic since I had prepared only one song from this VCD. ""Ok, calm down, don't panic, let´s go to plan B"", I thought, while I let the VCD play the next songs. In fact, they were more interested in my Macbook´s screen than the rhythms. For these little ones who have never seen a laptop, it is like a meteor dropped from another planet. I was right with the intrinsic music sensibility: as they were watching at the video clips of the songs, they tried to sing along with them. After 4 or 5 songs, time was up and I could relax before implementing plan C.
As for sports lesson of Class 4. I had prepared some body exercise that I learnt from the VCD I bought from Zhuhai. These exercises involve movements of each part of the body. When they are familiarized with all exercises, I will play music with which they can feel the beats while moving their body. I heard from Mrs. Ma that they wanted me to teach them dancing. However, as they started to learn each movement, they didn't really seem interested in what I was teaching. They are so different than those I use to see on the playground where they jump, run, climb, and perform acrobatics-like movements. Oh God, tell me what they really like!

While lying on the bed writing this diary, some children were crouching behind my windows watching me. I approached the window and smiled to them, implying that I don't mind them staring at me with their immaculate eyes. Yet, I cannot invite them to come in my room, otherwise my silence would be totally gone with the wind. Besides, it is my intention to maintain or arouse their curiosity in people and things outside their world. Curiosity is a way to incite the willingness to know more and more.

While some are at my windows watching me, others are playing on the playground, as if this was the best place ever. I suddenly have this thought: one day if they come to experience the lifestyle of the world outside, this laughter may turn into sorrow. Unfortunately, I think these children will never have the chance to live in the advanced and comfortable world outside, not after one decade, nor two.
---
6 November, 2009
Today, in English lesson of Class 2, I asked them if they had all bought the exercise book for doing the homework that I was going to assign. Many of them said that they still did not have the exercise book. After counting, there were 9 of them who still had not bought. I could have bought 9 exercise books from the school´s little store and offered these 9 students. However, I thought it would be fairer to buy them all. I ran to the little store and told Mr. Ma that I would like to buy 31 exercise books for our Class 2 students. Of course, he wouldn't let me pay for them.
I came back to the classroom with the exercise books in my hands. They all looked at the exercise books with joyful eyes. I thought ""such simple exercise books can bring so much joy to them. Shameful I should be, for complaining all and nothing everyday!""
This morning, Mrs. Ma told me that it´s been 3 or 4 months that it hasn't rained and she was worried that the water in the well would not suffice for all of us in the coming months. After hearing such a worry, I would not dare to take water from the well. However, my head is already itching, I really need to wash my hair...what can I do? And my face that is naturally of greasy skin, full of pimples and black heads! How can it overcome this period without sufficient hygienic care?
All these difficulties are within my expectation. Yet, at this very moment while I am going through them, I can only pray to God for more strength.
---
9 November, 2009
Today´s English lesson of Class 4 was successful. The students showed great interest to learn and were eager to think by themselves. As I started to implement the ""Prizing Policy"" (allocate special stationery to those who have done well on their homework), I noticed that they have doubled their effort in learning English. Verbal appraisal also seems effective. I am very glad today, thanks be to God.
Last week I learned that some students stay for lunch in school since they live far away from home. On one hand, I admire their determination to learn. Even if they have to walk 2 hours every early morning in order to reach school, they did not give up. On the other hand, I pity them for having to cook their own lunch, playing their mothers' role. Aside from some basic cooking techniques that Mrs. Ma had taught them, they are capable of all in the kitchen, chopping woods, lighting fire, washing lettuce and rice, etc., amazing!
Now I always go to see them cooking in their kitchen and see if they need any help. Today when I visited them again, they were already eating. As I looked at them putting the big bowls of rice into their mouth, I felt great satisfaction - I guess it is my belayed motherhood... When they saw me, they all said ""teacher, eat with us."" On replying them, ""I already ate, you all have to eat more, ok?"", again I felt inexplicably satisfied - I guess it is my innate ego for knowing that they like me. From these feelings, I suddenly remember the assertion made by Mr. An, ""what they can offer you and your spirit is far beyond what you can offer them.""
---
10 November, 2009
Today, I counted the English exercise books after correcting them at lunch time and found that there were only 28, in other words, 3 missing. I couldn't help feeling upset for these 3 students not telling me that they could not submit their homework. After they finished their lesson with Miss Lo, I entered the classroom and asked who had not submitted the homework. They all said they did, which means, 3 were lying. I made them all stand, and only sit when their name was called. Those 3 who had not submitted finally told me that they did not submit their homework this morning. Among these 3, 2 said they had left the exercise book at home while 1 said he had not completed the homework. I immediately used an angry tone, which I had never used since I arrived, to warn them that whoever does not submit assignment on time will have to do the assignment twice.""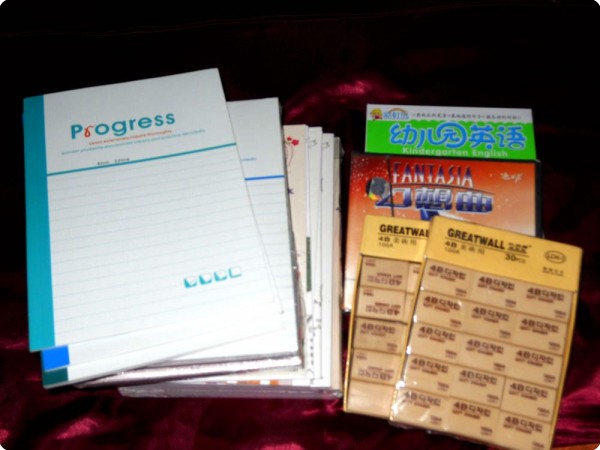 Here is the situation: everyday these children go home for dinner after school, and they come back to the school for tutorials until 8.30 with their handy flashlight. I do not have a clue as the attitude of their parents regarding their children´s academic results. I don't know if there are conditions for them to study and do their homework at home. I don't know if their parents ever ask them if they have finished their homework. The latter query is crucial as the cooperation between teachers and parents is one of the conditions for healthy growth of a child. Consider that their parents give them one yuan of pocket money everyday and this daily pocket money can either be used to buy junk food, or, stationery. If their parents do not care if their children have adequate conditions to learn, my unique effort of bringing pencils and notebooks from town is not enough.

Upon this question I have discussed with Mr. Ma. He told me with all the certainty that the attitude of the parents is that the teachers are the only guardians, for better or worse, they are the only responsible. I was stunned by hearing such a statement. I don't blame them for having such a view, but I do think that this must be corrected. More important than educating the small ones, it is to educate their parents, letting them know: only knowledge can provide their children promising future.
---
11 November, 2009
After lecturing 2 classes this morning, it was only 10 o' clock but Miss Lo was already preparing lunch in the kitchen. Our lunch is set only at 13.00. ""Why she needs 3 hours to prepare lunch?"" I wondered. Afterwards, I saw my students running into the little store buying snacks and putting them into their bags. I finally asked Mr. Ma what was going to happen today. ""Today is the excursion day we talked about in that night's dinner, don't you remember?"" he replied. In fact, I remember talking about this plan, but I thought that the date was not yet confirmed.

After lunch, I immediately went to my room and packed my stuff. As everything was set, Mrs. Ma said she had to boil some water for me to drink during the trip. However, hot water has to be cooled before pouring into the plastic bottle, implying that the others had to wait half an hour. As I noticed that the students were all very anxious, I told Mrs. Ma that I could drink cool water that is not boiled, but she would not let me take the risk of getting sick. With this little delay, we finally set off at noon. Almost 80 students walking in line along the hillsides, like a dragon flying in between the mountains. Mr. Ma, who was our leader in this trip, was walking ahead of all; Mr. Yang in the middle taking care of the little class-one-students, while I was the last of the group, chasing behind them with my camera shooting everywhere. Mrs. Ma told me that it had been a long time they did not go for excursion, that's why they were walking so fast and excited. It is true since I almost could not catch them.
We started to descend toward the side road at the foot of the mountain. Our route is to reach Xiao Long Tan prison building, after which we would scramble up the mountain across this side road and, finally reach the ""Mao Bi Ta"" tower at the top of that mountain. The road that descended the mountain is a very steep slope without walking path; we had to walk through cornfields and bumpy roads. I must say that I was scared to hell! I even started to squat myself down to avoid slipping. When I saw the students running at rocket speed towards the mountain foot far away from me, I thought, ""oh, no, I still have a long way to go, God bless me!""
On the way, Miss Lo was holding my hand all the time worrying that I would stumble. And the 4 student girls, who could see me almost crying for fear, were always walking around me, leading me to the easiest ways. As their teacher, 2 times taller than them, I felt ashamed, but also touched, for being taken care by them. In fact, Mr. An already told me, ""there in the villages, you don't need to protect students since they will protect you."" Here I have his words.
Uneasily I reached the foot of the mountain where all the others were already waiting for us. As soon as I saw Mr. Ma, I claimed, waiving my hand, ""no, no, I can't, I am very afraid, is there still a long way to go?"" As the reason of my fear is far too hard to be understood by the little ones, they all laughed at me. In fact, a girl grown in town is only used to elevator and public transport will never be as nimble and agile like these little monkeys. They are not afraid at all since they are so used to bumpy roads and steep heights. They ""fly"" over each mountain, climbing high, jumping far, without showing any sign of effort, just like little monkeys.

After a while, we reached the mountain where ""Mao Bi Ta"" Tower is situated. At the hillside, the uphill running race conceived by Mr. Ma took place. During the race, these little ones finished a half mountain distance in only 30 seconds!!! Incredible!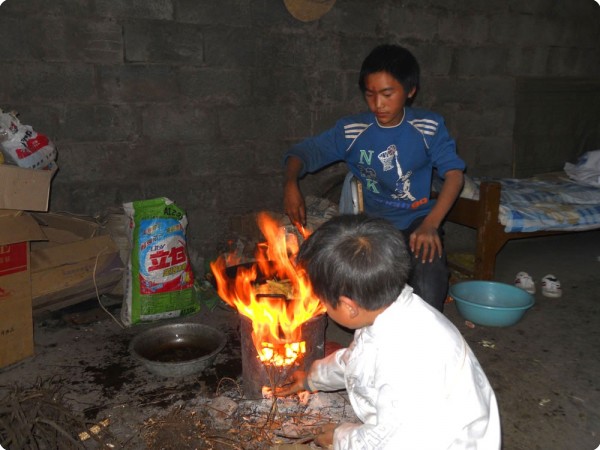 After the race, we, the ""non-racers"", walked up slowly to meet the ""racers"" up there where I finally saw ""Mao Bi Ta"" tower right in front of me. Mr. and Mrs. Ma, Mr. Yang, Miss Lo and I chose a big tree under which we settled down and had a pleasant chat, eating the snacks we brought from school. As for the students, of course they would never stop. While we ate the snacks on the ground, they hung themselves on the trees and ate their snacks there.

After an hour of rest, it was time to go back. The way back is even more ""exciting"" than the way we came, no bumpy roads, but rocky valley!!! Even those little monkeys had to be ""lifted"" and assisted one after another by Mr. Yang in reaching the top, I was so worried. ""There´s no way back, go with God,"" I encouraged myself.

After climbing two to three big rocks, I looked back and found myself situated at a 2 to 3-floor-height. I could not look back any more since I started to imagin myself falling behind.

I continued to climb, stepping on rocks after rocks. Finally I saw a little piece of sky up there. I was so happy since it means that, if I reach this rock, I would be walking on flat ground. I lifted my left leg, tempting to step on a big rock which would aid me to go up. Suddenly, I slipped because of the tiny sands over the big rock. As reflex, I grabbed a branch grown in between the rocks, but the branch was pulled out together with its root by me. I fell behind with the branch in my hand. At this very moment, my thoughts could not be another but this: Papa, Mami and Sister, I love you more than anything else. Then I got myself prepared for a big hit on my head when I eventually reach the ground, and the respective pain. However, I felt the pain at my hip rather than my head. I was ""caught"" by a big rock under before reaching the ground. For a few seconds, I laid my whole body down on this rock without a single move. Throughout these few seconds, I did not realised what was going on. When I came to the reality that I was alive, my tears could not help running out from my eyes. I started to hear them calling me loud up there, I stopped my tears with great effort since I didn´t want them to worry about me. ""I am fine, I am fine,"" I shouted to them with a relaxing tone. Miss Lo and Mrs. Ma came down to fetch me immediately. They used all possible methods to ""deliver"" me to the top, pulling, pushing, lifting, etc..one from top, another at the bottom. Finally I reached the top and I felt safe.

On the way back home, I kept thinking: My dear God, I don´t remember as from when, I entrusted my life to you; and you did not abandon me.
---
16 November, 2009
Today, I came to this county of Yunnan, ""Mile"" since the coming few days are school holidays. Aside from getting to know one more beautiful place of Yunnan, I wanted to use these days to reflect and evaluate, as how much of this volunteering plan and my expectation have been fulfilled.

Out of my expectation, however, is that I got sick. When the slight cough that I brought from school to here met the 2.º C local temperature, it transformed into a serious cold. And the outfit that I was wearing when I arrived was far from being appropriate to deal with such a cold weather. I did not expect this temperature at all since the school area´s temperature was never less than 20.º C.

When I was in Macau I rarely get sick. God, please forgive me, but I am almost sure that this cold I caught was transmitted by my little students who always carry a flu and running nose to the classroom. As there is a great shortage of fruits in the mountain, the children have very weak immune system and therefore easily catch a cold. The cold, however, is never properly cured due to the lack of doctors, pharmacies and hospitals in their living area. Same as them, from the day I arrived Hongpotou, I have not been taking in any fruit. Most probably, I caught this cold because of the abrupt lack of vitamin C enriched in the fruits.

Aside from the cold, I am also suffering from serious flea bites which are now all over my legs and waist. These bites are terribly itchy, especially in the night when I fall asleep and when I walk. Besides, they turn into black scars and will only come off after months.

I could imagine something like this to happen when I decided to come here, but: My Lord, can you have mercy on the black scars? because I still want to wear my pretty skirts.....
---
19, Novemeber, 2009
It has been two weeks I arrived the school of Hongpotou and it is about time to reflect and conclude as how much of my expectation has been fulfilled.
With no doubts, what I wanted was to bring joy to the children. For this, I must say that it is just too easy to bring joy to them. I only need to offer them stationery, like pencils, rubbers, exercise books, notebooks. Each time I enter the classroom with big plastic bags in my hands, their eyes twinkled like stars, staring at the bags, since they know that stationery is inside the bags. Let me just put things in this way, when we find out what material things they like, making them happy turns out to be a piece of cake.

However, I am aware that I should not induce them to build their happiness upon materialistic pattern. The happiness derived from materialism is not absolute and must be balanced, but, by what?

During this reflection process, I remember this episode: That day, in Class 2' s English lesson, after teaching them 3 new words, I told them to copy 10 times the same words on their exercise books. They started to do so. When I passed by one of them, I found that he was miswriting one alphabet. I corrected him verbally. However, it seemed that he did not understand my explanation since he continued to write it wrongly. Then I grabbed his hand with the pencil and write it together with him on his exercise book. He finally did it right by himself and I was so satisfied that I continued the same method with 2 or 3 more students. Suddenly, I found that the others were looking at me strangely. The students whose hand had been grabbed by ""Lao Shi"" also seemed constrained. I looked at their hands and realized how they were dirty, also their hair, their clothes, their running nose....all that I have been so ""closed"" to a while ago when I bent over my body to write on their desks.
I did not regret having been so closed to them despite their hygienic conditions. On the contrary, I am happy to have given them something they are not used to, but so natural – body contact. I guess the reason why they looked at me in such an awkward way is that they are not used to communication by touch. Perhaps, in school, there has not been any teacher who would teach them in this way. Perhaps, at home, their parents forget to hug them after they left their infancy period. But body contact is the most effective way to transmit our feelings, thousand times more effective than words. Even though I cannot stand dirt, I used this way to express that I care for them, so much that I am able to put aside my hatred to dirt. They looked at me because they felt my feelings - expression, transmission and reception, all in just a simple act of grabbing hand, isn't it amazing?

All this is just to say that I found the abovementioned ""balance"" between joy and materialism. As a catholic, I always remind myself that I carry a cross. This cross tells me to propagate faith, hope and love. There is no other thing more absolute than sincere love. It overtakes any materialistic concepts. However, not everyone knows how to love, it is a complex but the utmost stage of one´s feeling. I always think that only those who have been loved would know how to love. Therefore, I hope I have let them feel God's love and mine, by staying closed to them, and, as they feel this joy of being loved and cared, they will love and care others in the same way.
Aside from joy, I wanted to provide them with knowledge, as much as I could during my stay, so as to cultivate inside their heads a certain curiosity on people and things outside their world, so that they have the incentive to learn more. At this point, perhaps not many people understand how curiosity can arouse willingness to learn on children. I remember when I was a little girl how I wished to be able to communicate with my foreign neighbors in English. I worked very hard on English, paying 101% attention to each English lesson, asking questions, reading English newspapers, listening to the English channel, checking out vocabulary from dictionary all the time. After some years, not only could I communicate with any foreign neighbor who moved in and out from my flat, I even had a Portuguese boyfriend with whom I could practice English all the time. When I turned 19, I went to Portugal with him on holiday, where I met his friends and family who only speak Portuguese. I was like deaf and dumb for the whole month. I was unhappy because I wanted so much to talk to them. Thus, I decided to learn Portuguese, thinking that on one day I would be able to communicate with everybody in this country, telling them about my culture and listening to theirs. After some years, I even obtained my bachelor degree in law in Portuguese.
Many opportunities and possibilities begin with just a little curiosity. As long as these children know that there are other people, of different languages, cultures, and places outside the little world they are living, they won't become a ""frog under the well"".

Though, by simple fact that I don't speak their language ""Miao"", they take me as the ""E.T."" fallen down from the rooftop of Dao Ming School, to maintain their curiosity on me is not so easy. After 10 days being with them intensively, they already quitted watching me from my windows. After all, I am 100% yellow-skin-Asian just like them, only that I am Han. As the only solution, I started to tell them more about Macau and even encourage them to visit me one day.

I know that people like them who are born in such a scarce resources area, with no identification, no permission to travel or to work, do not have any choice. It seems that they are fated to live with the same forever, but this can just be a probability, or possibility. One can never be sure of the future. The problem of Hukou will be solved one day, as any social evolution that had undergone in the history - from feudalism to ""communism based on labor-farmer league"", further to ""socialism with special Chinese traits"" – what else can be immutable?

I really hope to have seeded this curiosity in the children's head, so that they will strive hard to know what the choices are there in their lives. If we tell them that the place where they are born is their life-time-dwelling place, it is equal to banning all their choices. They must understand that pasturing cattle and picking corns from the cornfields are not their only choice, and education is the stepping-stone to a better future. That's why they must go to school, getting themselves well prepared for the upcoming challenges.
---
26 November, 2009
In a few days I am leaving for Changpojiao Dao Ming School. Though I find it quite difficult to improve their English in one month's time, my goals set beforehand are well achieved. Class 2 students manage to get acquainted with 26 alphabets and the respective English words, pronouncing them loud and clear. As for Class 4, I have been focusing on basic English grammar (usage and rules of nouns, pronouns and verbs, etc.). I am happy that they have paid attention to my lecture, though I know that they will certainly forget these lectures soon after I leave the school. My goal is to make an introduction to what they might have the chance to deepen in the future. Hopefully, they will also remember this ""Lao Shi"" from Macau who taught them these English grammatical rules by coming across the same topics.
---