The children need us
All kids need the basics of life - like food, warmth, shelter and clothing. But they also need to feel loved and secure. We can help them be safe, strong and thrive.
Children need us to help them study
Education is the road that children follow to reach their full potential in life. If we do not give a child the opportunity to go to school, we are responsible of compromising his future life.

Investing in education is investing in humanity
Poverty can never be an acceptable reason for children not to be able to attend school. It is amazing how a little help can produce such enormous results.
What is SP Edify?
Is an organization created by all teachers and students of Saint Paul School in Macau to help small ethnic minorities in China
What does SP Edify do?
We provide free education for small etnic minorities children living in remote areas of Yunnan Province (China), and help their parents to improve their standard of living.
SP Edify in numbers
We have built 4 primary schools. In our 10 years of history, more than 1000 children have received free education and around 250 children are attending our schools.
We feel we are very privileged to live in Macau and to work and study in Saint Paul School. We also recognize that there are many children than are not as lucky as we are. We feel the responsibility to do our best and to contribute to the well-being of some of the less fortunate children from our own country. It is out of this desire to help our fellow country children that SP Edify was created.
SP EDIFY Financing
SP Edify finances itself EXCLUSEVELY from donations received
Although most of the funds come from our students and teachers, we also receive worldwide support from donors.
We have received funds from China, Hong Kong, Singapore, Taiwan, USA, Spain, Switzerland, Japan and other places.
SP Edify guarantees that 100% of the funds donated are used exclusively in the project. All operating expenses are covered by Saint Paul School.
Donations received during 2018
List of individuals and institutions that have donated funds to SP Edify during 2018
| | | | |
| --- | --- | --- | --- |
| Name | Country | Currency | Amount |
| Fr. José Luis family | Spain | EUR | 250.00 |
| Saint Paul School | Macau | MOP | 197,506.30 |
| Saint Paul School | Macau | MOP | 417,054.03 |
| Dominican Missions | Hong Kong | HKD | 10,000.00 |
| St. Dominic's Priory | Macau | MOP | 10,000.00 |
| Jessica Tang Meiling | Taiwan | CNY | 2,000.00 |
| Anonymous | Macau | HKD | 250,000.00 |
| Saint Paul School | Macau | MOP | 3,652.05 |
SHARE YOUR LOVE! MAKE SOMETHING HAPPEN!
Your contribution helps to make a difference in the children's lifes
Testimonials
In the past, when I was donating money, I always thought I was throwing it away, but now I think my money is not thrown away over there. On the contrary, I will increase my donation, because for me a few hundred yuan is not a big deal, but over there they can do a lot of things with it.
Now I understand the meaning of "To give is better than to receive". I feel this sentence is completely accurate and this trip has given us just this kind of opportunity. The money donated is not lost. On the contrary, it stays at your side for ever in another form. It is just that you don't know it.
Before, I just knew the school had a program to help the education in the mountainous areas of Yunnan, so every year we donated money for it. But what were we doing over there? how much are we helping them? These questions went unanswered until I went there in person. I'm really stunned, because the reality is so different to my imagination. 
During these seven days and six nights, I have come to realize that I am a blessed young girl, but I also experienced many different things. I want to thank our school for giving me this opportunity to understand what SP Edify (Saint Paul School Educational Infraestructre for Yunnan) is about.
What is love? People's understanding of love is different, but my understanding is very simple: I believe that love is trust between people and mutual understanding is already an interpretation of love.
I was lucky enough to be chosen by St. Paul's School to visit the Daoming elementary schools that St. Paul School has created in the mountain areas of Yunnan (China), and this trip has let me experience personally that this is love. When I saw one of our primary one student quickly ran to Chen Li and said to her while hugging her legs: "I missed you so much". It is not necessary to say anything else, but this love has already gone beyond the teacher ─ student's love. It is in fact he highest state of love.
Our Team
These are the people in charge of SP Edify's project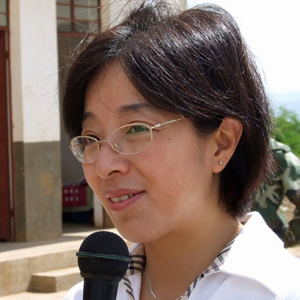 Chen Li
Founder and Representative of Saint Paul School
Alejandro Salcedo
Founder and Principal of Saint Paul School
José A. López
Founder and Administrator of Saint Paul School