School Opening Ceremony at Daoming n.2 primary school (Zhangjopiao)
The rain has been abundant this year, especially during the annual rainy season. Although we are in fall, a soft drizzle is stilll falling relentlessly, while Zhangpojiao children along with their parents, expectantly wait day and night for the school opening ceremony. This is the moment they have been waiting for so long. The school has been built at last, and children have their own classroom and teacher. They are now awaiting our arrival.
September 4 in the morning, the sky is dark and a light rain is falling. We and some fellow Christians arrive at Zhangpojiao loaded with school supplies. The trees that are beside the road are very lush and look very green after the rain. After the car arrives at a Miao village, you reach a dirt road downhill. Usually this requires only about 30 minutes of time, but today we needed more than two hours. At about 4:00 pm. we reached a ethnic Yi village, and the car could not go any further, so we had no choice but to continue on foot to Zhangpojiao, which is still more than 1 hour away, going through mud and slippery slopes not even cows want to go through. In this circumstances, it was really a surprise to see that the inhabitants of Zhangpojiao had taken 5 carts pulled by cows to pick us up, so women could go in the carts, while men made their way on foot.
On the way we sing the song of St. Francis of Assisi: "Make me an instrument of your peace". So signin loud and full of joy, did not feel any fatigue. When there were still a few hundred meters away from Zhangpojiao, the white building of Daoming n.2 Primary School could be seen in the background, surrounded by thatched houses. We arrived at the Miao village when it was almost dark. The Miao brothers were waiting for us in long lines and the children were holding wild flowers they had picked up to give them to us as a welcome gift while singing a song in Miao language called: "Happiness comes." Each child, with their small dirty hands, wanted to touch us and shake hands in a touching scene that was probably the first time it happened to these Miao brothers. After dinner, it was late and the night was dark. We are in an environment without electric light, surrounded by a deep dark where we can not even see the fingers of our hands, but nevertheless, this did not affect the mood of the people, children and women learn to sing songs to the candlelight, the elderly and men listen to catholic doctrine beside bonfire. Although it's midnight, nobody wants to go home yet .......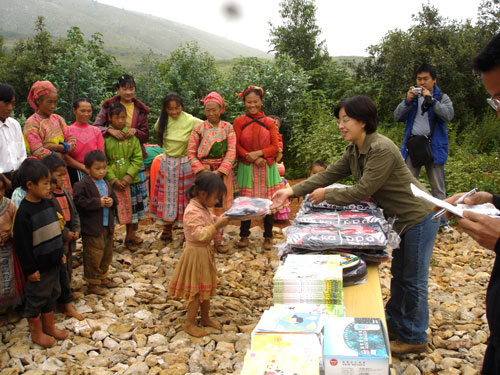 On September 5 is and will be a memorable day for the people of Zhangpojiao. From early in the morning, the parents have allowed their children to wear their best feastday clothes and wait around school. Their faces are filled with joy and anticipation. Their parents were never able to study, and they themselves do not yet know what it is to study, they do not even know the outside world looks like! Life for them is always a tedious, repetitive: Work begins at dawn and at sunset you can rest. Now, thanks to the educational program of St. Paul School in Macau, funded by some selfless volunteers, Zhangpojiao has its own primary school - "Dao Ming", which allows for much hope. At 9:00 am. the opening ceremony of the school starts. In the playground of the school are all the villagers, men and women, old and young. Students are given free textbooks, school supplies, stationery, even uniforms for students. While raising the national flag, children sing the national anthem, and the older people smile and feel satisfied: at this time, the faces of the children do reflect innocence and dignity!